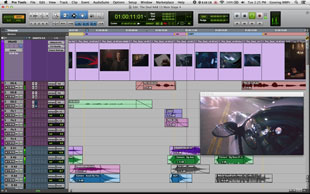 Avid has claimed a major upgrade to its flagship audio/video workstation with the release of Pro Tools 11. The release brings new, high-powered audio and video engines, 64-bit architecture, expanded metering, and direct HD video workflows.
'Pro Tools 11 represents a quantum leap in creative power,' says Avid Senior VP of Products & Services, Chris Gahagan. 'The newly designed architecture turbo-charges production with more plug-in processing, the ability to run more virtual instruments and a host of new features.'
Key features:
· Redesigned audio engine and 64-bit architecture
· New Avid audio engine
· 64-bit architecture
· Offline bounce (delivers mixes at up to 150x real time)
· Low-latency input buffer
· Dynamic host processing
· Expanded metering
· Gain reduction
· Built-in Avid video engine
· Video interface support
Pro Tools 11 and Pro Tools HD 11 will be available via online and at Avid resellers worldwide later in Q2 2013.