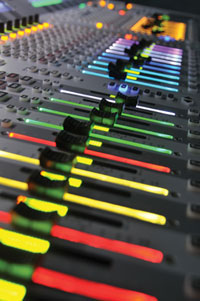 Studer's Vista 5 digital audio console has been updated with the addition of company's the FaderGlow system. Named the Vista 5 M3, the console joins the Vista 9 and Vista 1 in offering colour-coded indication of channels and functions, along with integrated RTW loudness metering as standard.
Studer FaderGlow uses an led strip alongside faders to indicate assigment, such as which faders control a subset of an orchestra, or highlighting the fader for a key presenter on a show. FaderGlow is also used to show additional functions such as graphic EQ to faders allowing the 30-band GEQ to be displayed and controlled on the faders.
The integral loudness metering is based on the RTW TM7 touchscreen meter, and provides a number of international broadcast standard metering types including bargraph, needle PPU and VU displays in addition to various loudness displays.
The Vista 5 can also be used with the new optional Vista FX system, which uses Lexicon PCM96 engines to provide up to 24 effects channels fully integrated into the Vistonics channel screens, and with the Vista Compact Remote to provide not only remote control facilities but also redundancy.
Another new software update for the Vista series including the Vista 5 M3 is VistaMix, automatic microphone mixing for games, talk shows and discussion panels. This intuitive system uses a gain sharing system to provide an optimum automatic mix that minimises background noise and spill without losing the start of words in a fast paced unscripted production.
Other new functionality in the Vista 5M3 includes channel metering, touchpad GC control, enhanced networking and a parallel Madi/Cat5 interface for the monitoring links to the DSP core. It also has integral audio router capabilities and control interface possibilities with video switchers via the ProBel protocol, and newsroom automation systems using the Ember protocol.
More: www.studer.ch