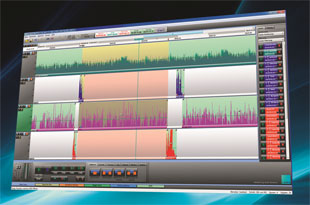 Lawo's Edit is radio production software for handling editorial content in radio broadcasting, including reporting, interviews andthe creation and continuous updating of recurring pieces.
With user guidance and variety of working modes, Edit reconciles an intuitive user interface with commmon radio sector operating philosophies, and is readily adapted to users' personal preferences.
Among Edit features is Reporter Box voiceover production, and ability to use of multiple data formats simultaneously. Audio signal processing is handled by native integrated sound processors from the mc² mixing console series. Also included is a loudness function (in accordance with EBU R128 and ATSC A/85) that can be used for real-time metering and the analysis of archive material (clips or entire takes).
Edit can be used with the full range of commonly encountered audio hardware, as well as being fully compatible with database solutions in the radio sector through its standardised interfaces. Various versions of the program are available for different areas of application.
More: www.lawo.de