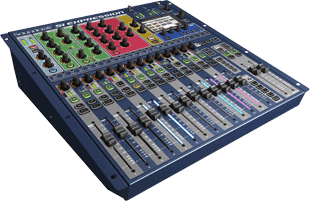 Soundcraft has unveiled the Soundcraft Si Expression digital console range, targetting gigging bands, performance venues, installations and tours, corporate A/V and theatres, houses of worship and education facilities.
Available in three frame sizes, the line comprises the Si Expression 1, 2 and 3, offering 16-, 24- and 32-fader and mic inputs respectively. All models are capable of supporting up to 66 inputs to mix by connecting any Soundcraft stagebox, including the two new Mini Stagebox 16 and 32 (16 x 8 and 32 x 16) models (being launched concurrently) or by connecting additional inputs over Madi or AES/EBU.
All external inputs are additional to the connections on the desk itself.
The Si Expression range incorporates processing from other Harman marques BSS, dbx, Lexicon and Studer, and offers a colour touchscreen, iPad ViSi Remote control and Soundcraft FaderGlow, adopted from Soundcraft's Vi Series large format flagship consoles.
A powerful DSP engine provides four-band parametric EQ, delays, gates and compressors on every input, parametric and 30-band graphic EQ, compressors and delays on all outputs, as well as four Lexicon stereo effects devices, all capable of being used at the same time. Fader layers allow inputs and outputs to be assigned anywhere on any layer. Soundcraft ViSi Remote allows remote control of the console from an iPad.
'The Si Expression is based on new technology bridging the current Si Compact and Si Performer ranges and meets a totally new price point for Soundcraft making this product highly attractive to those looking for a professional console, at a budget price,' says Andy Trott, Soundcraft and Studer Vice President and General Manager. 'Other companies will continue to produce "cheap" mixers, we make professional, high-quality, easy to use mixers in the same price range – which makes the customer's decision easier.'
The consoles also support a wide range of networking and option cards, the most recent of which is the BSS Blu Link card, also launched today enabling simple and automatic connection to the dbx PMC16 Personal Monitoring System.
The Soundcraft Si Expression Series ships in Q1 2013, with a prices to be confirmed.
More: www.soundcraft.com