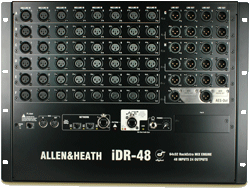 Allen & Heath has announced an AES Out option module for the fixed-format MixRacks in its iLive digital mixing Series.
'The launch comes in response to engineers and installers who want to keep the connection to the PA in the digital domain,' explains A&H Product Manager, Leon Phillips. 'Previously only an option on the flagship modular iLive systems, the AES options will place fixed-format iLive systems in the running for new applications, such as cost-sensitive broadcast installations.'
Customers are now able to order an iDR-16, iDR-32, iDR-48 and iDR-64 fixed-format MixRack or the xDR-16 expander unit, fitted with an AES Digital Output Option, providing two AES3 digital two-channel outputs in place of four of the analogue line outputs. Supported by the recently released v1.9 firmware, the option is also available as a retro-fit kit for existing customers, allowing single or multiple AES Digital Output options to be fitted.
See also:
More: www.allen-heath.com