Combining Yamaha's hardware and Steinberg software, Nuage is an advanced production system aimed at television, advertising, film and media postproduction.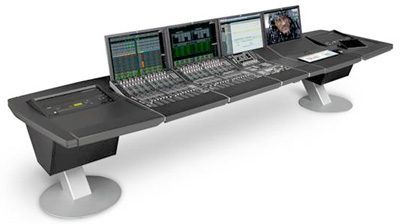 The integrated audio production system supports mixing, editing and dialogue replacement in audio postproduction applications. For optimum system versatility, the dedicated Yamaha control surface and audio interface hardware is modular, and all units communicate with each other and the central computer via a Dante network.
Nuendo 6, the latest and most powerful iteration of Steinberg's digital audio workstation software, is at the core of the system. Hardware components include the Nuage Fader channel strip, which works with standard LCD monitors; the Nuage Master controller unit, with everything needed for Nuendo editing in 'a remarkably efficient arrangement'; Nuage Workspace units that provide a unified system layout; three Nuage I/O units that support up to 128 simultaneous channels; and a Dante Accelerator card that gives the computer running the Nuendo DAW extra low latency multichannel audio data transfer capability.
'Nuage is a professional production system that incorporates the most advanced technology and interface design know-how from Yamaha and Steinberg,' says Yamaha Corporation Pro Audio Division GM, Kazunori Kobayashi. 'Yamaha has been manufacturing digital mixers for 25 years, and it is 12 years since Steinberg introduced the first version of the Nuendo DAW. We are confident that current Nuendo users, as well as users who will experience a Nuendo0based system for the first time, will be more than satisfied with the extraordinary performance and efficiency that Nuage offers.'
'Combining Yamaha's long-term experience in creating audio hardware with Steinberg's expertise in software development leads to a system that sets new milestones in terms of operational speed, integration, configurability and design, adds Andreas Stelling, Steinberg MD. 'The Nuage system solution is the quintessence of merging dedicated postproduction software and hardware seamlessly together to one complete studio environment. With the Nuage console and Nuendo 6 representing the most sophisticated platform for audio postproduction available today, we are delighted to offer existing and new customers a unique approach to achieving higher levels of productivity and quality.'