Roland Systems Group has announced the M-200i – a compact, 32-channel digital mixing console with iPad control, which joins consoles, digital snakes, integrated playback/record and personal mixing systems in the company's live sound V-Mixing System line-up.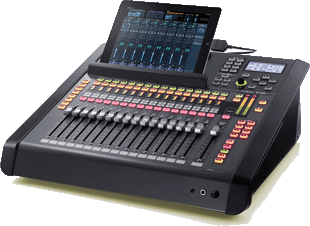 The iPad application enables remote control of key features of the M-200i including preamps, pan, and high-pass and PEQ/GEQ filtering. It also supports store and recall of scenes, configuring of compressors and gates, sends on faders and effect editing.
Remote control of the console allows control of a mix from any location in a venue (within the wireless network). The wireless network is created by plugging a router into the LAN port on the M-200i or by plugging the Roland Wireless Connect adapter (WNA1100-RL) into a USB port. Alternatively, the multi-pin cable included with the console can be used to connect the iPad to the M-200i for a wired connection that allows the iPad can be charged at the same time.
The M-200i features a 32-channel architecture with 17 motorised faders, eight aux busses, four matrices and eight DCAs, with 24 inputs and 14 outputs on the console itself (expandable up to 64x54 via the REAC port and the Roland Digital Snake). It will also accept audio from a USB key via a dedicated port. A 'touch –and-turn' feature allows users to touch a particular parameter on the iPad, and control it with a physical knob on the console.
Without an iPad, the the M-200i is fully controllable via a built-in LCD screen and buttons on a tactile control surface.
The M-200i also includes a REAC (Roland Ethernet Audio Communication) port that accommodates expansion options such as personal mixing, live multichannel recording or playback using the R-1000 48-track Recorder/Player or recording only via Cakewalk Sonar software. The REAC port can also expand the number of physical inputs by connecting to one of the popular Digital Snakes via a single, inexpensive Cat5e/6 cable. For performing musicians, the Roland M-200i also supports the M-48 Personal Mixing System.
The M-200i with make its debut at the 2012 InterBEE show in Tokyo, and is expected to be available in January 2013.