Fairlight's Quantum is the latest addition to it high-end audio postproduction range – a system of hardware and software supporting recording, editing, mixing, plug-ins, Midi and video, with an integrated 12- or 24-fader console.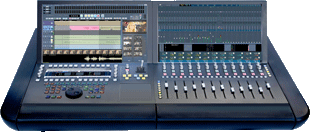 Aimed at film, video and music studio and postproduction facilities, Quantum claims fast and ergonomic operation through the faders, switches, knobs and jog wheel on its tactile control surface, along with touchscreen and mouse-based functions. Motorised faders and a dual row of rotary encoders provide touch-triggered automation of all mixi parameters.
Within easy reach, the system touchscreens complement the physical controls with multiple switching options and project navigation.
Quantum includes an embedded edit controller using Fairlight's Picture Keys. These adapt their appearance and function to allow navigation with fewer keystrokes – 'the control surface literally reinvents itself for each task you undertake, presenting the commands you need at the right time'.
Fairlight's new iCan technology with drag-and-drop layout editor allows custom button layouts to be set up for specialised functions. Also available are flexible mounting systems to attach speakers and screens from the rear of the console.
Editing, SD/HD integrated video, mixing, plug-ins, file transfer, recording are all integrated into the system. As part of the Fairlight range, Quantum is file format compatible with all Fairlight products, and provides seamless workflow for virtually all SD and HD file formats.
The CC-1 Media engine supports up to 192 disk recorder tracks, 230 mixing channels and two HD video tracks for 3D work. Included is support for up to 256 inputs and outputs, built-in EQ and dynamics for every channel, access to VST plug-ins and instruments, and mixing to multiple bus destinations up to 7.1 channels wide. Quantum interfaces with popular server architectures and supports all professional video file formats.
More: www.fairlight.com.au