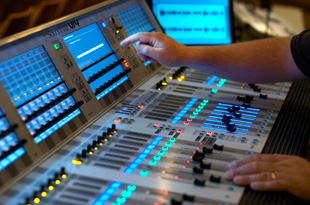 Version 4.7 software for Soundcraft's Vi Series range of digital consoles brings a major input capacity increase for the Vi4 model, as well as new Virtual Vi software for the Vi1 and a number of other upgrades.
The Soundcraft Vi4 can now handle 96 inputs to mix, bringing it into line with the Vi2 and Vi6 models. Show-files are now fully compatible between Vi2, 4 and 6 consoles, allowing settings to be quickly and easily moved between consoles from a USB memory stick. To take advantage of the 96 inputs to mix on the Vi4, three DSP cards must be fitted to the local rack, so exiting Vi4 owners can upgrade easily. Vi4 consoles with two DSP cards will be uplifted to 64 inputs to mix, from 48. Similarly, rental companies with inventories of both Vi4 and Vi6 can now standardise on local racks.
The same software update brings the dedicated Virtual Vi offline editor for the Vi1 console so users can take full advantage of the Vi1 functionality to program shows offline.
Other software enhancements in v4.7 include EQ width control options in Q or octaves delay unit settings in milliseconds, metres or feet and inches, and a number of other user interface enhancements.