Solid State Logic has announced ScreenSound ADR, designed to 'optimise and standardise Automatic Dialogue Replacement for film, Foley recording and local language replacement for film and television'. SSL claims that ScreenSound ADR is the world's first end-to-end solution to deliver faster and more efficient ADR workflow.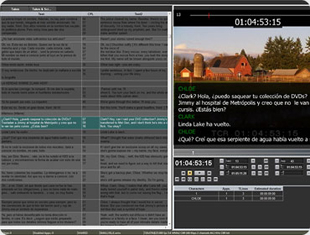 ScreenSound ADR is a turnkey system that combines a suite of integrated software applications providing dialogue spotting and session preparation, session control and management and streamlined audio recording, with a hardware platform including host computer, I/O and Nucleus hardware control surface. At each stage of the ADR process, ScreenSound ADR provides dedicated solutions to streamline preparation, management and production.
The session preparation stage of the process is handled by SpotShot, a comprehensive take logging, dialogue spotting and session preparation tool. Imported scripts are automatically turned into take lists, and a dedicated interface streamlines the dialogue spotting process with an integrated HD capable video player with full script and annotation text overlay. Take lists can be filtered to show appearances by individual cast members or groups and to calculate word/line count to help plan studio and talent time. SpotShot is a standalone application enabling dialogue spotting to be handled away from the ADR studio.
At the heart of ScreenSound ADR is SpotFire, which presents a dedicated session management and automated ADR interface that provides complete control of studio session workflow. SpotFire offers a unique interface that combines a 'rehearse– ecord–review' transport control panel with a customisable Take List. SpotFire used on SSL's Soundscape DAW as its underlying platform for recording, editing and mixing, with all track arming, transport and recording functions controlled by SpotFire's dedicated ADR interface. The system imports native .ptf format sessions from Pro Tools and can export finished sessions in native .ptf Pro Tools format.
SpotFire also feeds and controls VisionCue, Screensound ADR's artist cue system. VisionCue is a fully integrated multi-screen HD video player with a customisable scrolling script, annotation, graphic timeline cue and count in overlay. VisionCue supports a range of video formats, up to Pro Res and Avid dnxhd without the need for transcoding. The system also supports BlackMagic Design video interfaces.
More: www.solidstatelogic.com