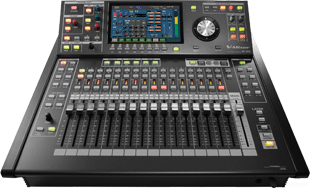 Roland Systems Group (RSG) has released a firmware update for its M-300 V-Mixer console.
Version 1.5 adds four dedicated 31-band mono GEQs, as well as additional functions for monitoring and scene memory. Calling them 'significant developments for the theatre and broadcast markets' RSG has made the update as a response to the growing number of V-Mixing Systems being used in these markets.
A new Audio Cross Fade in Scene Change allows channel fader levels and panning to be set to fade smoothly when a scene is changed. Fade time is selectable up to 100s and can be set to on or off for each channel and each scene. Further detailed settings are available for the Recall Filter function, increasing the number of parameters that can be accessed and showing when the detailed parameters have been changed.
New features for monitoring include a dimmer function and prohibition of operation from the Level knobs in the top panel's monitor section. A Channel Display screen has been added for DCA groups to provide options to quickly see a general overview of which channels or buses are assigned to which DCA.
User settings for the M-300 have also been revised. The M-300 can be set up so that it will always start up in Guest mode (useful in applications where the mixer is accessible to less experienced users as this function can be set to lock the 'guest' access to certain features). The ability to disable specified operations is also included, adding the option to disable a users' access to mixer layers from the top panel of the mixer.
New effect patches have been added with this update as well as additional RS-232C commands.
The v1.5 update will be available Q4 2012 and will be available for download from the RSG website .