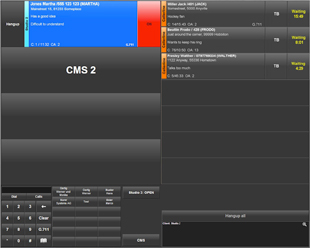 Studer has released CMS Lite, a cost-effective telephone system for broadcasters, which retains much of the functionality of the large CMS System including DJ Self-op, switchboard operator and producer modes, waiting rooms and database support.
Readily integrating with Studer's OnAir console range, CMS Lite is a flexible and scalable phone system able to serve a single studio or multiple installations. Because it uses off-the-shelf IT components, it requires less installation labour, less cabling and claims a high return on investment. CMS Lite also helps save costs by moving away from proprietary telephone hybrids.
After a first, introductory talk, a screener can drag-and-drop callers to the studio where they immediately appear in the fader area of the console. The DJ can talk to a caller and bring them on-air at a single touch. Outside calls can be made by using either the on-screen keypad or short-cut buttons for the telephone directory integrated in the database.
A CMS Lite system can start small,but be extended later into an enterprise-wide server/client based system. If more operators are required to act in the background, more clients can be installed. If higher quality is desired, an optional codec can be added.
More: www.studer.ch