Avid VenuePack 4 will come bundled with all Venue digital console systems, offering recreations of popular vintage hardware to the latest studio processing effects in 30 plug-ins from Avid and third-party partners.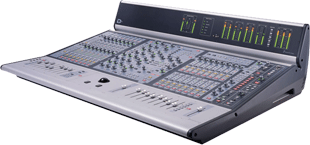 VenuePack 4 plug-ins run natively on all Venue systems. 'Venue's integrated plug-in system eliminates the need for external outboard gear or plug-in runners, giving the user unprecedented creative choice,' says Avid Product Manager, Greg Kopchinski. 'VenuePack 4 provides a unified set of popular plug-ins for live sound, making it easier than ever for engineers to move between Venue consoles and use the great-sounding, low-latency effects they've come to appreciate.'
In addition to the suite of plug-ins, VenuePack 4 includes the Flux:: Pure Analyzer Essential software application, a modular RTA system that provides mix engineers with an extensive range of live audio analysis and measurement tools when installed on a Mac or Windows laptop. Pure Analyzer can also use the Flux SampleGrabber plug-in to support direct signal acquisition across an Ethernet network from Venue system monitor and mix buses.
Key features:
· Classic Compressors Bundle: Emulations of five hardware processors (BF-2A, BF-3A, Purple Audio MC77, Fairchild 660 and Fairchild 670)
· Eleven: Emulations of vintage and modern guitar amps
· Flux:: Pure Analyzer Essential: Network-driven, real-time signal analysis software
· Focusrite d2 and d3: Focusrite Red equaliser and comp/limiter
· Impact: Console-style mix bus compressor
· Joemeek Bundle: Emulations of the SC2 compressor and VC5 Meequalizer
· Line 6 Echo Farm: Models of echo hardware processors and pedals
Moogerfooger Bundle: Emulations of audio effects and synth modules (12-Stage Phaser, Analog Delay, Lowpass Filter and Ring Modulator)
· Pultec Bundle: Emulations of three Pultec EQs (EQH-2, EQP-1A and MEQ-5)
· Reel Tape Suite: Analogue tape and machine effects (Reel Tape Saturation, Reel Tape Delay and Reel Tape Flanger)
· Reverb One: Reverb processing, with parameter control
· ReVibe: Room-modelling reverb
· Slightly Rude Compressor: Custom compressor
· Smack!: Compressor/limiter
· TL Aggro: Emulations of an analogue FET compressor
· Voce Bundle: Emulations of classic vibrato and rotating speaker effects (iVoce Chorus/Vibrato and Voce Spin plug-ins)
More: www.avid.com