The Machine Matrix is the latest development of Endless Analog's DAW-tape hybrid recording system.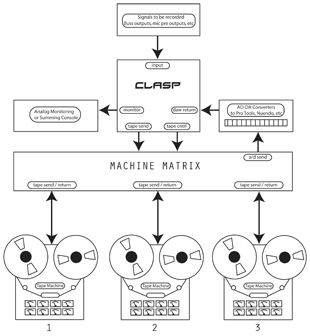 Machine Matrix allows additional tape decks to be used with the system, during both tracking and overdubbing. Up to three tape decks can be connected through the Machine Matrix into a Clasp system, providing switch control and audio routing through a mastering grade audio path with the click of a mouse.
For example, record bass on a 2-inch tape deck and then click to switch everything over to a half-inch tape deck for vocal overdubs. Then click to a quarter-inch tape deck for guitar overdubs. The system supports switching between three 24-track machines by adding additional channels with the Machine Matrix I-O – any combination of tape decks can be used.
Key features:
· Mastering-Grade audio signal path
· Connect up to three tape machines to a single Clasp
· Control with Machine Matrix panel or Clasp plug-in
· Sample accurate delay compensation between decks
· Hardware display indicates selected tape machine
· Tape transport status – play, record, rewind and stop
· Sample accurate tape-synchronisation using SST, Sample Synchronisation Technology
· Auto-switching between tape machines via Clasp software plug-in
· Communicates to Clasp via built in Midi ports in daisychain configuration
· Auto synchronisation of up to three tape speeds, track-arming, transport and sample rate

See also:
More: www.endlessanalog.com