Endless Analog has released what it is describing as a major software upgrade for the Clasp (Closed Loop Analog Signal Processor) system.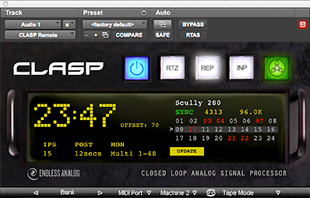 Presently the world's only pro audio system to allow recording to analogue tape within a digital recording set-up, Clasp's v3.5 upgrade includes a rugged new hardware panel interface which is easily installed on existing systems using EPROMS.
Clasp 3.5 software has been completely redesigned with improved functionality and broad compatibility that extends from Pro Tools 7.3 up to the most recent Pro Tools 10 HDX. This will soon extent to all versions of Cubase and Nuendo. The upgrade of the hardware panel can be done 'by anyone with a steady hand' or can be carried out by an authorised supplier.
Key v3.5 updates:
· All tracks visible on GUI
· Machine Matrix ready
· Number of plug-ins reduced to two
· Quick switching between machines with one mouse click
· Keyboard lock RTAS issue resolved
· Plug-in efficiency improved
· Selectable input monitor mode from plug-in
· Selectable repro monitor mode from plug-in
· Auto update scanning feature for track arming
· Direct digital record mode on machine sync plug-in
· Post roll handling improved
· Automatic hardware bypass when plugin not present
· Latency management increased to 18,500 samples
All new Clasp systems will be shipped with v3.5 software installed, and existing Clasp users in Europe will be able to obtain the new upgrade from KMR Audio free of charge until the end of June 2012.
See also:
Track Change (Clasp explained)
More: www.endlessanalog.com
More: www.kmraudio.com