Lawo has announced a new software release – v4.10 allows the mxDSP routing matrix DSP card to be set up and controlled directly from the console surface.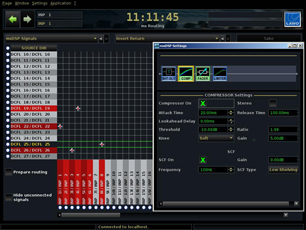 Externally, it appears to be the same as the standard console DSP card but offers a number of areas of application and enables access to several DSP modules, such as the AutoGainControl, Graphic Equaliser, or different Delays. Saved automatically in a snapshot and during production, all editing capabilities can be applied directly in the router.
Full compatibility of the AdminHD configuration tool and the mxGUI with Mac OS-X Snow Leopard and Microsoft Windows 7 (32-bit and 64-bit), is another feature of the v4.10 release. While other features include the ability to adjust the movement of AfV slaves, depending on a specific production's requirements, emphasis has been put on the consistent expansion of custom functions – the configurations section of Lawo's mc² console software. Through the implementation of multiple new functions, users can set up a console to the requirements of a respective production. Among the custom functions affected by this expansion are, for example, 'Global change of: A/B input, Monitor Send/Return, AfV On/Off' and 'DSP parameter to GPC mapping'.
Since the latter feature's applications include the ability to automatically balance the various delay times of different camera types (wireless and wired), via the AfV feature controlled from a fader, its implementation underscores Lawo's role in the broadcast sector.
More: www.lawo.de