Cerwin-Vega! has unveiled a line of professional audio mixers for live performance and recording applications.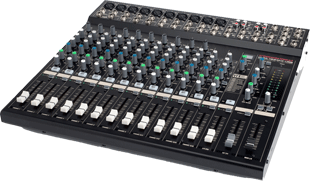 Available in 10- 12- and 16-channel versions, the CV Mixer range offers digital sound effects processing, USB input/output for laptop computer playback and recording, and peak LEDs on each channel. The mixers' clear markings and colour-coordinated knobs assist operation in low-light situations.
With professional studio quality microphone inputs, dedicated gain controls and switchable phantom power, the CV line accommodates virtually any microphone. The insert, aux and EFX sends allow connection to external dynamics, equalisation and effects units giving a high level of control.
The mixers also feature Tape In and Rec Out RCA jacks, which enable users to directly connect to a CD/MP3 player or an audio recorder.
All three models feature four stereo line inputs and a Main LR quarter-inch balanced TRS jack output. The 10-channel version also includes two mono line inputs and four XLR microphone inputs; the 12-channel model has four mono line inputs and six XLR inputs and the 16-channel mixer features eight mono line and ten XLR microphone inputs. The 12- and 16-channel mixers also include a balanced XLR output and balanced sub group with alternate quarter-inch TRS output.
More: www.cerwin-vega.com