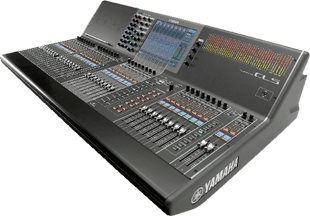 Yamaha's CL (Centralogic) series of live digital recording console comprises three models – the CL1, CL3 and CL5
Offering from 48 to 72 mono plus eight stereo inputs, all models have 16 DCAs, 24 mix and eight matrix buses, and stereo and mono output buses.
The desks' operation uses Yamaha's Centralogic user interface – which will be familiar to many live sound engineers – which supports a highly responsive colour touchscreen and user definable rotary encoders and pushbuttons. The newly-designed faders are freely configurable to allow control of any combination of inputs, outputs or DCA faders. Visual continuity from the Centralogic section's physical faders to virtual controls claims 'the unambiguous directness of analogue console channel modules'. Any of the console's input and output channels can be instantly assigned to the Centralogic section in eight-channel groups.
Editable channel name displays above each fader automatically switch to a larger character size for short names, and also show pan and fader values. Below each channel name display is a bar that illuminates in any of eight selectable colours, the same as those used in the central touchscreen, for channel and group identification. Brightness can be adjusted for optimum visibility under any ambient lighting conditions.
The control surface also provides backlit channel name displays above each fader, with assignable colour bars. The CL1 and CL3 models also have an he optional external meter bridge.
In addition to new mic preamps and delay on each input channel and output port, the Effects Rack provides the equivalent of eight SPX2000 effects processors, along with a range of VCM EQs and dynamics. Two further virtual racks provide access to up to 32 channels of graphic EQ.
Developed by a team led byYamaha's Dr K (Toshi Kunimoto), the CL line also has a Premium Rack containing a range of high-quality dynamic processors and EQs. Among these, Yamaha has collaborated with Rupert Neve to include the Portico 5033 EQ and 5043 Compressor from the Rupert Neve Designs range of outboard processors.
A key element in the CL series' flexiblity is in its I/O racks – the Rio3224-R and Rio1608-D – and built-in Dante network support. A scalable system is constructed by attaching up to eight I/O racks via Dante, providing a possible maximum of 256 inputs. Pairs of CL consoles can also be cascaded for a larger channel count.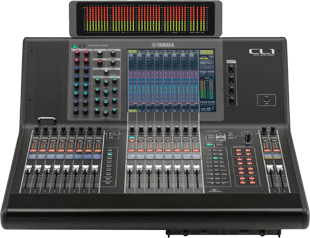 Connection of systems uses the consoles' auto-configuration. Dante provides a flexible, low latency, highly scalable, plug and play networking solution to connect Yamaha networked systems, Dante Virtual Soundcards or any other Dante networked device. Two or more consoles can share the inputs from one set of I/O racks with unexpected level changes prevented by Auto Gain Compensation in the I/O racks. With Dante's 32-bit operation, gain compensation can be provided without affecting the dynamic range.
The Rio3224 includes four stereo AES-EBU outputs, keeping signals in the digital domain through to the amplifier.
The consoles feature three MY card slots on the rear panel, maintaining compatibility with existing audio formats as well as newer cards like the MY8-Lake speaker processing card and MY16-Dugan auto mixing card. These slots also also allow additional I/O, alongside the onboard eight mic inputs and eight line outputs.
CL Editor is a standalone online/offline editor which runs on both Mac and PC. It does not require Yamaha Studio Manager as a host.
Other software applications include a new version of StageMix for iPad, which offers wireless remote control and has been expanded to include new features such as channel naming, DCA fader control and tap tempo. Both CL Editor and StageMix can run simultaneously. Yamaha's new File Converter software has similarlybeen upgraded to allow exchange of console files between the CL series, and Yamaha's PM5D, M7CL and LS9 desks.
The CL console is accompanied by Steinberg's new Nuendo Live recording software, which is designed specifically for use in live recording situations. This runs in conjunction with Audinate's Dante Virtual Soundcard (also included with the console) to allow a Dante network to record up to 64 tracks of audio to a PC. In addition, stereo recordings can be made via a convenient two track USB recording and playback function.
'The CL series ideally answers today's needs using today's technology', says Yamaha Pro Audio Division General Manager, Kazunori Kobayashi. 'The collaboration between Yamaha, Rupert Neve Designs, Audinate and Steinberg has made it possible to deliver a sublime balance of sound, performance, and features that results in uncompromised overall mixing capability and quality. After a quarter century of evolution, the CL series represents a momentous new chapter in the history of Yamaha digital mixing.'
The CL5 and Rio3224-D are due in Q2 2012, with the CL1, CL3 and Rio1608-D available in Q3.
See also: