Midas has launched Generation-ll software for all of its digital mixing consoles.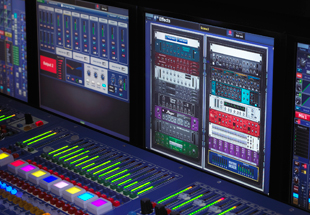 A response to the user feedback Midas has been gathering for the past five years, Generation-ll software brings the advanced navigation features from Pro2 to the entire range of Midas digital consoles.
The Advanced Navigation modes are: Collapsed Flip (which hides any channels not assigned to the selected bus), FX Navigation (which displays FX processors when appropriate bus is selected), GEQ Navigation (which flips VCA faders to GEQ control when appropriate bus is selected) and MCA mode (mix control association – a separate bank of VCAs for each of the console buses).
In addition to the new console navigation modes, Generation-ll software includes new high-resolution FX plug-ins, designed not only to exceed the performance of third party algorithms and hardware devices, but also to operate within Midas' automatic latency management technology, ensuring a phase-coherent mix, regardless of how and where the processing is used.
New FX plug-ins:
· Five high-definition reverb processors – Ambience, Chamber, Hall, Plate and Vintage room.
· Dynamic EQ.
· 8 x 8 matrix mixer with EQ and delay.
· Dual stereo chorus.
· Dual stereo tap delay.
G-ll also contains features developed in conjunction with leading live sound engineers. A new multi-tabbed Preferences screen with new user options means that all Midas digital consoles can be 'customised' to operators' preferences. The 'console overview' screen for Pro3, Pro6 and Pro9 provides at-a-glance reporting of system audio status. Other new features include aux pan linking, global pre/post selection and per-channel viewing of VCA and POP group membership.
The final component of Midas Generation-Il software is an onboard DHCP server, which permits remote control of any Midas digital console wirelessly from an Apple iPad, via any standard Ethernet-equipped wireless router.
More: www.midasconsoles.com