Solid State Logic has announced the release of Soundscape v6.2.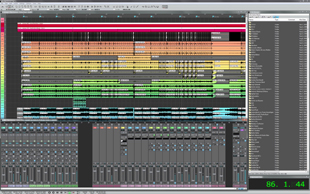 Adding features that are described as 'workflow specific', Soundscape v6.2 combines two of SSL's software products with the integration of the Pro-Convert DAW Project translation tool.
The Soundscape v6.2 Pro-Convert installation offers direct import/export to a series of third-party DAWs from the Soundscape File Menu. V.62 imports and exports the audio file and selected audio track, clip and marker data for Pro Tools 9 Sessions, Cubase/Nuendo Track-Archives, Final Cut XML and Samplitude/Sequoia EDL projects.
A new Console Control Module provides hardware control control over the software using SSL's Nucleus and Matrix hybrid DAW control consoles, integrating SSL hardware control and Soundscape audio production workflow. Version 6.2 also enables Soundscape to be used with SSL's MadiXtreme 64/128 PCIe audio interfaces for the first time, facilitating direct connection to audio converters, Madi-equipped consoles and routing systems for lower-cost system specification where systems don't require a software mixer environment. Soundscape v6.2 can still be purchased with an SSL MX4 interface if a DSP driven mixer and plug-in environment is still required. MX4 systems include the SSL Bus Compressor and EQ & Dynamics plug-ins as standard. The
release also includes new MTC Master/Slave and MMC Slave Sync added to MX4 and MadiXtreme-based set-ups.
See also:
More: www.solidstatelogic.com