Dangerous Music has released the Dangerous Source portable/desktop monitor controller.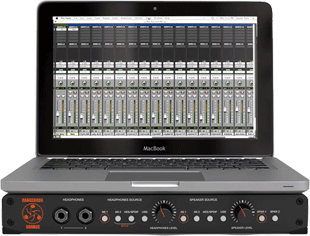 Designed for the engineer on the go or to fit a limited space on the desktop,Dangerous Source works alongside any DAW for centralised control of speakers, headphones and other monitoring applications. The unit fits beneath a 13-inch laptop computer, but can also sit unobtrusively on a desktop provide easy control of volume, input selection, speaker switching and headphone control.
An input for USB audio simplifies a travelling mix rig further.
'With the explosion of professional recording and mixing being done on today's powerful laptop computers, we wanted to bring our standard of audio path quality and functionality to portable monitor control,' says Bob Muller, President of Dangerous Music. 'We've been making monitor controllers since before the product category existed in the mainstream, so the Dangerous Source seemed like the logical next step in the lineage of Monitor, Monitor ST and D-Box. We've also added a first for our products in that the Source connects directly to the computer via USB, saving even more cable hassles for the traveling engineer.'
The Dangerous Source monitor controller shares many key features with the company's Dangerous D-Box, such as speaker switching for two sets of speakers, speaker volume, AES/SPDIF digital input, two analogue inputs, dual headphone out with a separate level control, and in addition, it can connect directly to a computer for monitoring of digital audio over USB. Dangerous Source is capable of up to 192kH/24-bit on both digital inputs. Although the Dangerous Source is the company's first non-rack mount product, an optional 1U-high user-installable front panel option will be available.
Key features:
• Desktop form factor sits comfortably under a 13-inch laptop
• Optional 1U-high front panel available
• Loudspeaker volume control
• Two quarter-inch headphone outs
• Supports two pairs of speakers
• Alternatively select both speaker outputs simultaneously for speakers and subwoofer combination
• Layering of multiple inputs in both the speaker and headphone outputs
• Two Analogue Inputs: unbalanced mini stereo at -10dBv, balanced XLR/jack combo jack at +4dBu
• AES/SPDIF Digital Input, up to 192kHz, 24 bits
• USB IN, up to 24-bit/192kHz for Windows and Mac
• Line-level pass-thru for Control Room output
• Buffered digital thru output for AES/SPDIF input
The Dangerous Source is set for release in early Q2, 2012. The price is to be announced.