Aiming to 'bridge the gap between high-quality analogue consoles and sophisticated DSP technology', Alto has launched the MasterLink Live 16 and MasterLink Live 24 desks with iPad docking.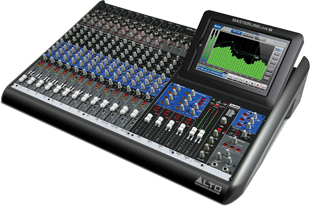 The MasterLink Live 16 and MasterLink Live 24 offer: high-headroom, low noise microphone preamps; channel compressors (10 on MasterLink Live 16 and 16 on MasterLink Live 24), three-band semi-parametric EQ (three-band EQ and sweepable mid-frequency on all mono channels) ; four aux sends, four group buses ; built-in Alesis digital effects (including reverbs, choruses and delays); and the capability of the Alto Professional Live Drive App.
Both models feature dedicated analyser/talkback microphone inputs, allowing a mix to be evaluated and the FOH engineers to communicate directly with the stage.
Rather than using the iPad as a remote control, the MasterLink Live desks leverage the iPad's powerful interface to provide expanded functionality and improved workflow. The dock connector allows access a variety of professional Master Mix Processing tools via the Live Drive App.
The Live Drive App brings main mix analysing, processing and recording to a docked iPad and accessible via the iPad touchscreen. This facilitates management of the main mix, real-time audio analysis and recording of a gig.
Key features:
Seamlessly integrates iPad with fitted enclosure, 30-pin dock and exclusive software
Works with iPad and iPad 2
Process and record your main mix with Alto Professional's Live Drive App
Dedicated analyser/talkback microphone input
Three-band EQ with sweepable mid-frequency on all mono channels
10 independent channel compressors for dynamic control
Four aux sends with aux one and two configurable as post or pre fader
Four-bus operation, offering main and monitor mix separation
Real-time audio analysis
12-band parametric EQ
Compressor/limiter
Two-channel audio recording capability
Built-in programmable SPL meter
More: http://altoproaudio.com