Avid has announced the Venue SC48 Remote System, bringing remote I/O functionality to the Pro Tools integration and direct plug-in support of the Venue.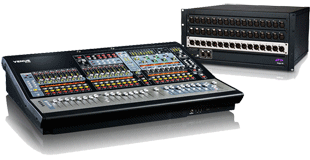 Consisting of the SC48 console and new Venue Stage 48 remote box, Ethernet Snake Card and Venue 3 software, the SC48 Remote System is an alternative to the all-in-one SC48, enabling I/O to be sited away from the console. This is achived over a fully redundant Ethernet AVB snake on Cat6 cable
The Stage 48 remote I/O box will also be available as an add-on option (with its companion Ethernet Snake Card) to existing SC48 users.
The Venue 3 software upgrade adds features and improves workflow. It supports record and playback of up to 32 Pro Tools channels (increased from 18) over FireWire (SC48 and FWx Option Card), allows bigger mixes with expanded input processing channels (increased from 48 to 64) and Venue Mix Rack (increased from 64 to 80) Systems. Added functions include: HPF settings included in all EQ presets, and when copying/pasting EQ settings; quick configuring of console layouts by dragging and dropping channel strips; monitor mixes on 24 buses (up from 16); expanded plug-in capacity (40 slots for SC48, up from 20); and programming of the Console User button in the Events List to perform common tasks such as tap tempo or recalling a snapshot.
'Customers are seeking ever more powerful features in compact mixers,' says Senior Product Manager, Sheldon Radford. 'With the SC48 Remote System, they get the sound, performance and reliability Venue systems are known for, plus the flexibility to split up the I/O and place each distribution where needed for optimal sound. They can customise the system to support up to 48 inputs on stage or distribute the I/O to handle a variety of sources on stage, at FOH, and even another location anywhere in the room.'
The Venue SC48 Remote System, Venue 3 software upgrade, Stage 48 remote box and its companion Ethernet Snake Card are all expected to be available worldwide in February 2012.
More: www.avid.com