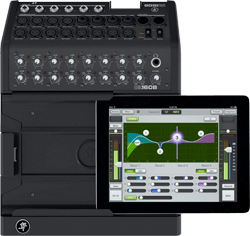 The Mackie DL1608 combines the power of a full-featured digital mixer with the ease and mobility of an iPad – using both hardware mixer controls and an iPad dock.
The desk is aimed at the live sound market, with 'boutique-quality' Onyx preamps and 24-bit Cirrus Logic AD/DA converters. It offers 16 inputs, eight subgroups and an LR stereo output. It has six aux sends, and supports preset and snapshot automation.
The DL1608 is loaded with a choice of plug-ins on each channel, including four-band EQ, compression and gate plug-ins, plus a full-featured reverb and tap delay and 31-band graphic EQ and limiter on the main and aux outs.
The DL1608 supports up to ten iPad devices, allowing multiple engineers to control the mix. In addition, it can be used to give band members the ability to adjust their own monitor mix.
Key features:
Hardware
Onyx mic preamps
High-end Cirrus Logic converters
Ultra low-noise, high-headroom design
Six aux sends for monitor mixes
Master LR output for mains
Processing
Powerful, touch-sensitive plug-ins
Four-band EQ, gate and compression on inputs
GEQ and comp/limiter on outputs
Global reverb and delay
Wireless Mixing
Seamless wired to wireless mixing
Tune the room from anywhere
Get on stage to ring out monitors
Personal monitor mixing
Use up to ten iPad devices simultaneously
iPad Control
Intuitive Master Fader app
Grow and Glow visual feedback
Preset and snapshot recall
Record the mix to the iPad for instant sharing
Integrate music from any app into the mix
Install Features
PadLock feature locks down iPad for permanent installs
Industry standard Kensington lock
Compact footprint
More: www.mackie.com