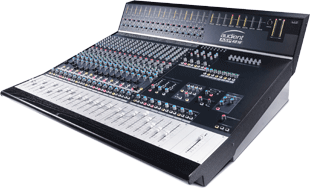 British designer Audient has released the ASP4816 – a compact, cost-effective recording console that maintains the key benefits of the flagship ASP8024 recording console without its large dimensions.
Due to ship in February 2012, the ASP4816 takes many design cues from the ASP8024, with the same input and monitor design in a smaller frame size. Characterised by Audient's analogue circuitry designed by audio 'guru' David Dearden, the ASP4816 is the perfect centrepiece for production studios and educational facilities.
The main input channels feature Audient's class-A preamplifiers and four-band EQ, a combination found in hundreds of ASP8024 equipped studios, 'where many users no longer feel the need to reach for their outboard preamps and EQ'. The console features 40 faders, 16 bus routing, six auxes, two dedicated cue sends, four stereo returns, stereo bus compressor and a comprehensive monitor section.
The UK retail price for the ASP4816 is £8,950 (plus VAT and delivery).
More: www.audient.com