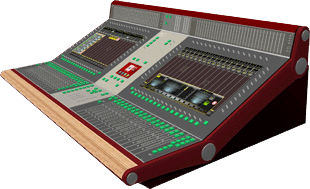 Cadac will take the wraps off its new flagship digital live production console at the forthcoming Plasa show in London. The CDC Eight will mark the company's third completely new console design in a year.
Aimed at high-end sound touring and fixed installation applications, the (c£45,000) console promises a unique 'high-agility' user interface, accessed via two 24-inch 16:10 high-definition LCD touchscreens. A second, centrally located 6-inch LCD touchscreen accesses the system control and automation. Combined with a less menu-dependent operating system than other digital consoles, the CDC Eight claims to be 'exceptionally smart, nimble and intuitive in operation'.
The CDC Eight offers 128 input channels (expandable to 256) and a standard 48 outputs. Two frame sizes offer 16 or 32 faders. Built upon the company's latest generation proprietary DSP mix platform, processing power is delivered by eight 32/40-bit floating-point SHARC processors. wide dynamic range, low noise mic preamp, specially developed ultra-low distortion EQ filters and analogue emulating compressor algorithms, 96kHz, 24-bit Delta-Sigma AD/DA converters, and advanced EQ algorithms, using proportional-Q techniques, combine to deliver a classic 'Cadac sound' signal chain.
To be unveiled at a media launch on the opening day of the show, the CDC Eight is billed as 'Cadac's killer sound touring console' by Sales Development Manager Vincenzo Borrelli. 'What really sets it apart – aside from the classic Cadac sound quality – is the user interface, which is truly of its time and totally intuitive to any audio engineer.'
See also:
Cadac CDC Four (DM1600)
Cadac Live1
More: www.cadac-sound.com