Mackie has announced the DLZ Creator all-in-one podcasting and streaming audio mixer for content creators of any experience level.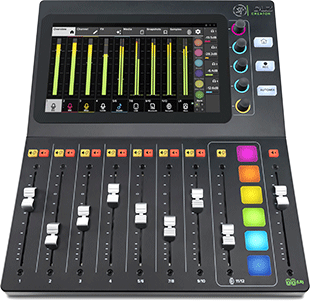 The DLZ Creator is a digital podcast mixer, equipped with Onyx80 mic preamps and Mackie's Mix Agent technology, that easily and assists, automates and guides setup for users. With its fully adaptable interface, equipped with DLZ control modes and a full studio-worthy suite of processing, the DLZ Creator puts pro-quality podcasting into the hands of users at any level.
'Mackie audio solutions have been tapped by creators and professionals for years, so podcasting was a natural next step for us,' says Mackie CEO, Alex Nelson. 'We challenged ourselves in designing a product that would meet the needs of today's modern creators, so any user – beginner or pro – can create on their own terms. The DLZ Creator accomplishes this with its robust feature set, easy set-up process, and modes that adapt to the needs or experience level of the user.'
The unit offer three Control Modes – Easy, Enhanced, and Pro – that transform the touch display from simple and intuitive to advanced and detailed, adapting to an individual user's skill level, with no compromise in processing power or sound quality. Pro Mode unlocks the full power of the DLZ Creator to take control and fully customize the product to get the desired sound.
The Mix Agent set-up assistant provides easy setup and automates functions, requiring minimal effort or learning curve, while AutoMix manages levels for up to four mics, so users and guests can be heard even when everyone speaks at the same time. Users can also create custom headphone mixes for guests.
The DLZ Creator can be used to record or stream multitrack audio to a computer or USB-C, or directly to an SD card for a self-contained workflow.
The DLZ Creator is available now at US$799.99.
More: https://mackie.com