Waves Audio has announced further updates for its Cloud MX Broadcast Audio Mixer.
With this update, Cloud MX now supports 32+2 faders via dual Waves FIT controllers, as well as tactile control of plug-ins via the Waves FIT Controller, expanding the Cloud MX mixing experience for the user.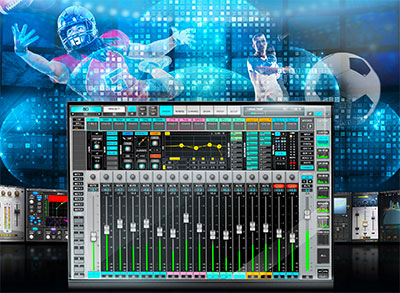 The Waves Cloud MX Broadcast Audio Mixer is a professional cloud-based audio mixer offering high-quality audio, high-precision mix control and creative processing capabilities, with full integration of Waves' catalogue of audio plug-ins in a scalable, remotely operated, broadcast-ready cloud workflow.
With this latest update, users 'can enjoy a fast, streamlined workflow in the cloud, with unmatched audio quality'.
The new Cloud MX update allows users to combine two Waves FIT Controllers to the same mixer. The two FITs can work in tandem, for 32+2 faders and encoders per mix layer, or independently, where each FIT controls a mix layer of the user's choice. Plug-ins can now be controlled directly from the Waves FIT controller.
The Cloud MX update brings a tactile experience to mixing with plug-ins. Plug-in parameters are auto-mapped to the FIT control surface, allowing users to mix with plug-ins hands-on, with zero manual set up.
In addition, the Cloud MX Broadcast Audio Mixer features an improved GUI (with updated layout), bug fixes and eight additional user keys.
The mixer's control options include multiple touchscreen support, plus tactile mixing with the Waves FIT Controller and/or Mackie/Midi controllers. Finally, you can enjoy superior audio quality and a pro mixing workflow without compromise, in a professional cloud environment.