Roland's Professional A/V Division has announced the VR-120HD Direct Streaming AV Mixer, the new flagship model in its VR streaming switcher line-up.
Offering extensive audio and video I/O, a large touchscreen, and hands-on controls, this portable unit targets use in mid-level hybrid production. Advanced Roland AV features aim to simplify difficult tasks with customisable workflows, deep automation functions, remote PTZ camera control, one-touch macro sequencing, and streaming over LAN and USB.
The VR-120HD's video capabilities make creating custom experiences for live and online audiences straightforward, with assignation of sources to eight cross-points on the fly – including live video inputs, still images and video clips – and the ability to prioritise cameras and computer sources with scene recall. Independent feeds can be created by assigning composition layers to multiple busses as needed.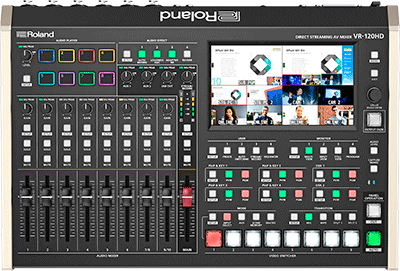 The VR-120HD carries six HDMI and six SDI video inputs in full HD, supporting a range of broadcast and cinematic frame rates and colour spaces. The HDMI inputs feature scalers with EDID and HDCP support, eliminating hassles with client sources like computers, tablets, gaming consoles, and legacy 4:3 devices.
The VR-120HD effects engine offers eight composition layers assignable to the Program, Sub-Program and Aux outs, with up to four picture-in-picture windows and two downstream key layers with transparent PNG and external key support.
Offering multiple assignable outputs including three SDI and three HDMI outputs, a USB-C streaming output, and ethernet streaming, the VR-120HD also has a high-end video matrix. Numerous output frame rates are supported, and routing tools provide the flexibility to feed program displays, monitors, multi-view producer displays and online audiences at once.
The VR-120HD makes livestreaming to the most popular platforms smoother than ever before, with support for direct streaming over Ethernet and USB computer streaming up to 60fps. And with simultaneous SDXC recording, events can be captured for later distribution.
The VR-120HD claims to offer the most powerful audio capabilities of any video switcher in its class, with 42-channel mixing and a host of processing tools, I/O routing options and automation features. Six XLR/quarter-inch combo inputs feature high-quality mic preamps, and four RCA inputs for standard line-level devices. Users can mix embedded digital audio from the HDMI, SDI, and USB inputs, and Bluetooth is also available for streaming audio from a mobile device.
The Audio Player section gives users access to custom sounds. Eight assignable pads on the VR-120HD panel can be used to trigger sound effects, announcements, countdowns for eSports or theme songs for presenters.
Advanced workflow tools in the V-120HD allow the operator to execute multiple functions with a single press. The 32 scene memories and powerful effects engine work together for seamless scene changes, while 100 macros provide one-touch control of complex action lists. A sequencer function makes presets and macros even more powerful, with the ability to program up to 1000 steps and trigger them in order during events.
The VR-120HD features extensive PTZ (pan-tilt-zoom) camera integration with onboard support for select Canon, JVC, Panasonic, Sony, PTZOptics, Avonic and VISCA-compatible PTZ LAN cameras. Different brands can be mixed and matched, and up to 12 PTZ cameras can be operated simultaneously.
The unit also includes tally light support, remote record triggering of Atomos recorders, RS-232 and GPIO ports, and more. Free remote-control software coming in Q2 2023 will allow users to enhance production workflows via an iPad or Mac/Windows computer.
The VR-120HD is expected ship in March for US$6,495.