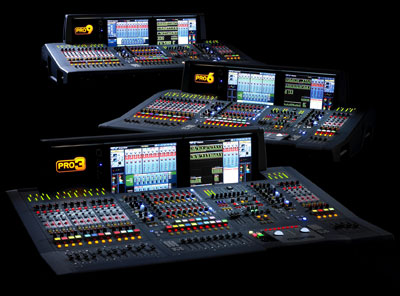 Midas used InfoComm as the launch pad for the Pro9 and Pro3, joining its Pro6 in the Pro Series of digital audio systems.
Pro9 is the flagship of the line, providing 88 input channels and 35 buses, with the dual stage boxes offering placement flexibility up to 200m apart and 500m from the FOH position. The desk can take advantage of the full range of Midas I/O box options, including the new DL251 fixed-format stage box and the DL431 24 channel five-way mic splitter offering three mic preamps per channel and dual digital network connections, both with full redundancy. The range also includes the new Klark Teknik DN9650 digital format converter offering connectivity to many different digital protocols, including Madi and Dante.
The Pro9 offers features made popular by the XL8 and the Pro6, including VCA and POPulation groups, which allow users to navigate channels without layers or pages of faders. The console also benefits from the same comprehensive choice of effects and dynamics processing as the Pro6 and XL8, including the XL8 compressor options. Expandable modular connectivity means the system can be upgraded to meet most applications.
The Pro3, meanwhile, brings the Pro Series within the reach of more touring riders and professional installations, offering 48 input channels with remote controlled mic preamplifiers, 27 buses and six stereo effects. At the heart of the Pro3 is another new arrival from Midas, the DL251 fixed format, 5U I/O rack, designed as a cost-effective solution for those not requiring the flexibility of Midas modular I/O hardware. However, should more connectivity be required, a simple and affordable upgrade path supersizes the system to the fully-loaded, 88-channel Pro9 with additional hardware and firmware upgrades.
'All the new systems use exactly the same technology and components as the XL8 and Pro6,' says John Oakley, MD of Midas Klark Teknik. 'This is a perfect example of the way our highly advanced networked audio strategy allows us to bring new products to the market very quickly. The new Pro Series products, Pro3 and Pro9, offer both easier affordability and increased capacity while remaining true to the brand values.'
'Midas customers can now gain additional benefits from our open-architecture approach to system design and our modular hardware implementation,' Brand Development Manager Richard Ferriday adds. 'The new Pro Series additions, Pro3 and Pro9 offer both easier affordability and increased capacity while remaining true to the brand values.'
More: www.midasconsoles.com