PreSonus has announced Studio One 6 music production software for macOS and Windows, bringing mixing improvements and advanced user interface customisation.
'Studio One has evolved over the past 12 years and is now an established major player in the audio production space,' says PreSonus General Manager for Software , Arnd Kaiser. 'We continue to push the boundaries of what's possible in recording and are now the first digital audio workstation in the industry to feature end-to-end lyric support for both audio and Midi, from songwriting to recording and live performance.'
Among the new features and enhancements in Studio One 6, Smart Templates combine preconfigured tracks and channels with a customised user interface and automatic download of required content to get started recording. Smart Templates provide tool sets for the tasks at hand, including basic recording, beat making, mixing stems, mastering an album and setting up for a live show. Smart Templates include a convenient drop zone to easily import needed content like audio, video and Midi files, as well as interactive tutorials with instructions and links to related video content.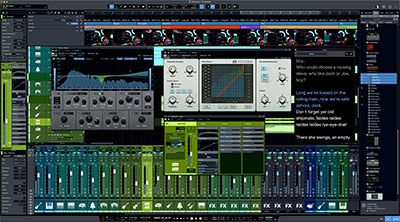 The new Customization Editor provides a convenient and easy way to show or hide nearly all tools and functions, to offer a streamlined workflow for the task at hand. Customizations can be saved to recall when required
Studio One 6 now provides lyric support, allowing lyrics to be added to scores, Midi production, audio sessions and live performances. The Lyrics Display can be used as an editor, a teleprompter or a quick means of to navigating a lyric-laden production. When working with Score or Piano view, lyrics can be attached to notes word-by-word or by syllable. Lyrics can also be transferred to the Show Page for rehearsal and performance.
Content creators and sound-to-picture professionals are offered a new Global Video Track and workflow. Video clips can be added by dragging video files onto the timeline. The Video Track can hold an unlimited number of video clips for working on multiple reels of a feature film in a single session. Video thumbnails are generated automatically to provide a preview for easy navigation. A dedicated sub-track is provided for embedded audio to use as reference, complete with mixer channel, full plug-in processing and output routing options.
Studio One 6 also deepens the integration with the PreSonus Sphere fully loaded with cloud-based collaboration Workspaces, using sharing options and built-in sync options from the main menu. An all-new comprehensive installation window lets members quickly explore, download and install exclusive PreSonus Sphere content, with a variety of display, search and filter options.
Improved Native plug-ins include a new De-Esser for taming vocal sibilance and other high-frequency sounds and the new a Vocoder that will turn a voice or audio source into a synth or effect, while ProEQ, Autofilter, Mai Tai, Sample One XT and Presence XT have all been 'significantly enhanced and improved'.
Improvements to the Console cover the Browser and Start Page. Fader Flip lets users control FX/bus sends, sidechains and Cue Mix sends all from the main faders. Stereo channels now feature a choice between balance, dual or binaural panning as well as a new panner pop-up editor. The new Channel Overview provides a single, consolidated view of all channel parameters, including input controls, inserts, sends and Cue Mix sends for the selected channel that can be pinned to keep a critical eye on individual channels. Track Presets can be used for storing every aspect of a given track or channel for instant recall, even for multiple selected tracks/channels.
More: www.presonus.com