Tascam has announced v1.30 firmware for its Portacapture X8 High Resolution Adaptive Multi-Recorder.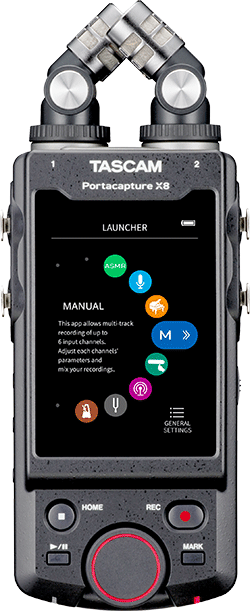 Featuring 192kHz/32-bit float-point recording technology, a 3.5-inch colour touchscreen, large-format detachable microphones, internal 8-track recording and a USB audio interface, the X8 is aimed at videographers, vlog content production, media production and music applications. Version 1.30 firmware brings 'significant operational enhancements' to its offering.
The Portacapture X8 now has the capability to use 32-bit, float-point resolution when using the unit as a USB audio interface to a DAW. This facilitates wider dynamic range, higher resolution and greater audio quality. The 32-bit float technology enables audio to be dynamically controlled and edited virtually without limitations. Clipped audio segments can easily be corrected and, similarly, low-level audio passages can be adjusted to a higher level.
The firmware update also provides a significant enhancement to the unit's User Setting and Input Setting memory functions. The X8 can now store User Settings on the Launcher main interface and Input Presets on the app (up to three for each) that will instantly recall various user-defined parameter settings. This new capability makes it easy for users to define and recall their favorite and most used configurations.
Also new with the update is the Mix Minus capability that has been added to the Portacapture X8's podcast app. The Podcast app can now turn Mix Minus On or Off for an input. This feature enables a USB audio source, for example, to have Mix Minus set to On so it can be recorded and monitored by all users while avoiding an audio feedback loop that would normally occur if not for Mix Minus. As the unit will record audio while connecting to a video conference when used as a USB audio interface, this capability is extremely useful.
'The Portacapture X8 has proven itself to be a full-featured, powerful handheld recorder both on its own or when used in tandem with a computer,' says Director of Product Marketing, Paul Youngblood. 'As a company, we strive to listen carefully to our users, as this enables us to learn first-hand how our equipment gets used in a wide range of applications – and the v1.30 update is a perfect example of this. We've taken the most requested capabilities and turned those into new features that make the Portacapture X8 even more versatile and useful.
More: www.tascam.com