Tascam has updated its Mixcast 4 Podcast Station with built-in Recorder/USB Audio Interface with the release of v1.30 firmware.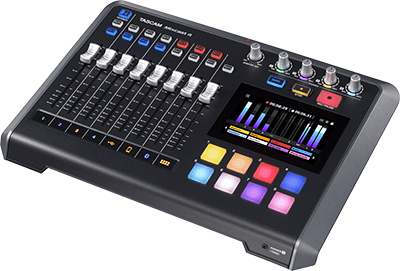 Designed for podcast creation, live streaming, event production and voiceover work, the Mixcast 4 now offers level adjustment for each of its eight sound pads, allowing each individual pad – including the pre-assigned Bleep tone – to have its own user-defined output level. Also part of the v1.30 update is the ability to switch between sound pad banks while recording.
A further enhancement is the Normalize function for sound pad sources. With this new capability, audio on the sound pads can now be normalized enabling the Mixcast 4 to automatically set the optimum audio level for a sound that, otherwise, might be too low or too high.
The Talkback output has been expanded to the USB, Bluetooth, and TRRS connections in addition to the headphone outputs. This feature enables the host to talk to podcast participants privately. Previously, the Talkback function was limited to the Mixcast 4's four headphone outputs. With the v1.30 update, participants can hear Talkback even while connected via USB, Bluetooth and the TRRS 3.5mm input.
More: www.tascam.com