Røde has unveiled the RødeCaster Pro II, a fully integrated audio production studio for content creators of all kinds.
The original RødeCaster Pro appeared in 2018: 'The RødeCaster Pro marked a monumental step forward in creative audio technology,' says Røde CEO, Damien Wilson. 'It was a truly groundbreaking innovation, the likes of which had never been seen before, and it has had a significant impact on the growth of podcasting over the past four years. When developing the RødeCaster Pro II, we went in with a similar mindset to the original – to create something truly revolutionary, but this time our focus was all creators, not just podcasters. We designed it from the ground up to deliver unprecedented performance and complete adaptability in any creative application, from gaming and streaming to music production. This is not simply an evolution of the RødeCaster Pro, it's a completely new beast unlike anything you've seen before.'
The RødeCaster Pro II has four studio-grade Neutrik combo inputs for connecting microphones as well as instruments, including guitar, bass, keyboards and other devices. Each input features Røde's ultra-low-noise, high-gain Revolution Preamps, developed specifically for the RødeCaster Pro II. With an equivalent input noise rating of -131.5dBV and 76dB of gain, they eliminate the need for lifters, boosters or external processing, even with the most demanding dynamic microphones.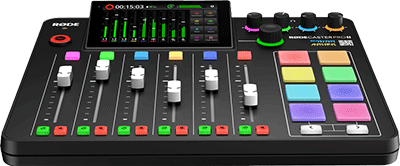 The RødeCaster Pro II also features a suite of Aphex audio processors that have been overhauled from the original RødeCaster Pro and remodelled using component-level analysis of analogue units. A high-performance quad-core audio engine claims greater processing power than any other content creation console on the market, while onboard effects allow users to craft their own sound.
The high-definition, full-colour touchscreen and tactile rotary encoder make navigation and control of the console straightforward.
The RødeCaster Pro II is fully customisable and can adapt to recording applications from livestreaming and gaming to podcasting to music production. It features nine individually assignable channels, with six broadcast-quality physical faders and three virtual faders. Any of the nine audio sources can be allocated to any fader, allowing users to design their ideal mixer configuration to suit their creative requirements and workflow.
The eight Smart pads can be customised to do everything from triggering on-the-fly voice effects like reverb, echo, robot and pitch FX, send Midi commands to external software and hardware, activate automated mixer actions like fade-ins and fade-outs. The bank switching buttons provide access to eight banks for a total of 64 unique actions at the touch of a button. The onboard effects and Aphex processors are also fully customisable, with granular onboard. All processing and effect parameters can be saved as presets and loaded at any time on any channel.
Every setting, from the mixer configuration to Smart pads, as well as entire recordings, can be saved on-board as a 'Show'. This also suits the RødeCaster Pro II to creators who make different types of content, multi-functional studios, or production or education facilities that require different set-ups for different users.
The RødeCaster Pro II's four analogue inputs can accommodate everything from a single microphone for a solo podcast to a full band for a livestream. There are also four high-power headphone outputs and quarter-inch balanced line outputs for connecting speakers for crystal-clear monitoring and playback.
Dual USB-C interfaces accommodate the connection of two computers or mobile devices simultaneously, with an extra virtual USB channel for connecting chat applications. MFi certification ensures integration with iOS devices.
Advanced Bluetooth connectivity with wide-band speech makes recording ultra-high-quality phone calls easy and can also be used for audio streaming and connecting wireless speakers. Users can record in stereo or multitrack either to an onboard microSD, computer or external storage device, with ultra-fast data transfer over USB.
The RødeCaster Pro II also offers Wi-Fi and Ethernet connections, allowing users to update firmware wirelessly, and integrate with hardware and software.
The RødeCaster Pro II launches alongside a suite of accessories, including the RødeCover 2 protective cover, a Vesa mount, carry bags and coloured cables.
More: https://rode.com/en/interfaces-and-mixers/rodecaster-series/rodecaster-pro-ii