The latest update to Merging Technologies' Pyramix promises 'next level' production for mixing and mastering Dolby Atmos releases. Pyramix 14 addresses all common scenarios encountered in preparation of material with a powerful Dolby Atmos renderer running automatically in the background.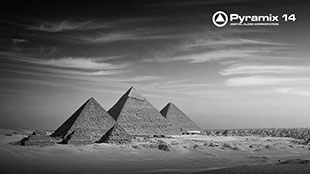 In order to retain the full capabilities of a Dolby Atmos renderer – including binaural monitoring and large speaker sets, while preserving the CPU and giving the same user friendliness as a renderer integrated into the DAW – Merging Pyramix 14 now configures the Dolby Atmos Renderer to fit a project with a single click of a button.
Pyramix 14automatically discovers any Dolby Atmos Renderers on your network and allows connection to the required one. Clicking on Update Renderer allows the user to begin working immediately, regardless of the complexity of the project. Pyramix completely configures the Renderer, maps all immersive bus layouts by automatically creating the required static objects and updates all complicated audio routing.
Key features:
Ingest: The ability to load any Dolby Atmos ADM file into Pyramix. Pyramix can immediately build a complete mixer to play the loaded ADM correctly.
Power: For mastering or loading multiple ADM files into a project, Pyramix gives maximum help and speed.
CD Import: Pyramix imports CDs with the best available sampling rate and bit depth conversion, and ingests each track exactly as printed with all the CD text and UPC/EAN codes.
Repackage: Dolby Atmos hybrid buses allow any format to be sent into a Dolby Atmos Renderer by having some channels mapped as objects. When exporting an ADM, the same flexibility is available.
Trusted Tools: In addition to tools within Pyramix, Merging has partnered with Flux and Penteo.
'Pyramix 14 is a logical development for Merging and was very much guided by our existing Dolby Atmos customer base,' says Merging Head of Software Engineering, Dominique Brulhart. 'The aim is to provide not only the most powerful workflow creatively, but to also automate some of the more time-consuming administrative tasks. We feel happy that this has been achieved.'
More: www.merging.com