API (Automated Processes Inc) has introduced the MC531 Monitor Controller, a stand-alone version of the monitoring functionality built into the centre section of API's analogue consoles.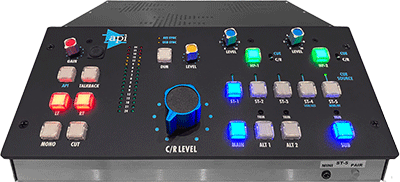 Specifically designed to include fully-featured monitor control for DAW workflows, the MC531 can be integrated into any audio production environment where functionality, ease-o-use and an accurate reference of each audio source is required.
Alongside its API 41-detent Control Room Knob, the MC531 features a Main and two Alternate stereo outputs, the latter having individual trims for speaker level matching. Programmable subwoofer integration allows the user to link the Sub with the Main and/or either of the Alternate outputs. With a total of seven selectable stereo input sources (three analogue line-level inputs, AES, USB, plus 3.5mm and Bluetooth), the MC531 is intended to meet the monitoring needs of 'almost any' studio set-up. Two independent Headphone outputs and a built-in talkback mic complement the feature set.
'In our ongoing mission to provide audio professionals with products suited to their evolving workflow, the company decided that a monitor controller would be a natural next step in product design,' says API Director of Engineering, Todd Humora. 'We've certainly had many requests for a unit like this over the years. The MC531 provides users with the same circuitry they would find in an API console, plus a few extra features that many people will find useful.'
'API has always strived to engineer products that the audio community needs and wants,' adds API President, Larry Droppa. 'In the case of the MC531, we're offering a truly professional monitoring solution that's equally at home in a commercial studio as it is in a smaller, personal creative space. Anyone familiar with an API console will recognise the layout, functionality and the tradition that's built into this incredible sounding monitor controller.'
The MC531 is now shipping and carries API's five-rear warranty.
More: www.apiaudio.com