Solid State Logic has released Plus Processing Packs for the SSL Live console range, bringing additional DSP resources to the SSL Live L100, L200, L350 and L550 consoles.
Building on the SSL Live L-ISA control integration found in Live v4.11, Live v5.0 Console and Solsa Software features integrated control solutions for Meyer Sound Spacemap Go Immersive, Shure ULX-D and Axient Digital Mic Control, offering control of key features from within the SSL Live console ecosystem.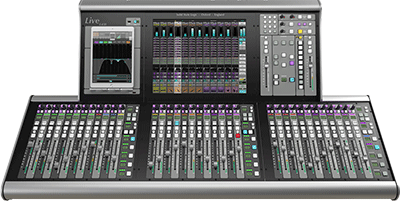 Live v5.0 also features a number of other workflow-based enhancements, including Routing Interface, Event Manager and Overview Screen improvements plus the addition of Solo and Mute buttons to the TaCo control app.
In line with advances in immersive and object-based mixing for live sound, Solid State Logic will roll out its SSL Live L450 and L650 consoles focused on the next generation of touring, events, Houses of Worship and installed sound. In these production environments, multiple mixes, immersive audio, monitoring and OTT/Streaming are often required. The L450 console sits above the more compact L350 in terms of processing power, while the L650 is the most powerful SSL Live console to date. The new L450 and L650 consoles will offer the same superior sonic performance and outstanding operator experience that is found within the entire range of SSL Live consoles.
The L450 and L650 layout both include the triple-wide fader bank configuration found on the L200 console. Cutaways for external screens are also incorporated to help maintain line of sight to the artist and stage, creating two distinct areas of focus for the operator. The new L650 console shares the same knob-per-function Channel Control tile as the L550 Plus, whereas the L450 features a Tablet panel for use with SSL Live's control app, TaCo.
All new L100, L200, L350 and L550 consoles from the point of Live v5.0 release will ship as 'Plus' models.
More: www.solidstatelogic.com