Røde has released a major update to its free podcasting and streaming software Røde Connect.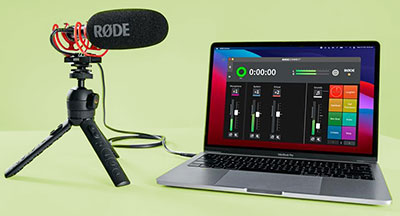 Version 1.3 unlocks compatibility with the Røde VideoMic NTG. This is the first shotgun microphone that has been made compatible with the software, offering creators the perfect solution for livestreaming with an overhead mic. The VideoMic NTG is also for use on a desktop stand or studio arm for both podcasting and streaming.
Røde Connect allows recording professional-quality podcasts and livestreams with up to four Røde microphones connected to a single computer. It supports digital mixing with level controls, solo and mute button, and one-click access to audio processors. It also offers features for both podcasters and streamers, including customisable sound pads and virtual channels for seamlessly connecting remote guests, integrating streaming applications, adding music beds and more.
The VideoMic NTG is a versatile compact shotgun microphone with a USB output for plugging directly into computers that is suited to a wide variety of filmmaking applications. This unique capability allows the VideoMic NTG to be used as a fully featured USB microphone, complete with headphone output and level control.
This is the third Røde product to be made compatible with Røde Connect, joining the NT-USB Mini and Wireless GO II. This trio of microphones each offer an ideal solution for a wide variety of podcasting and streaming setups, from roundtable recording to casual couch podcasts to IRL livestreams.
The VideoMic NTG is intended for use on a desktop stand or studio arm, with tailored audio processing in Røde Connect. It also offers a solution for podcasters or streamers who want to place their microphone further away from their mouth, while still retaining presence and clarity.
To coincide with this update, Røde has released the WS-Chroma, a set of green and blue windshields for the VideoMic NTG. The coloured foam enables the microphone to be placed overhead for optimal sound quality then chroma keyed out of the shot –for creators who use green/blue screens in their streams.