Cleanfeed has announced enhanced studio tools for the Cleanfeed collaboration tool for live high-definition audio and recording in a web browser used by broadcasters, podcasters, journalists and radio presenters.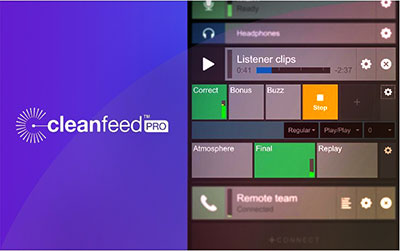 The tools – all hosted in a web browser with no requirement for any external hardware or software –include updates to the existing Clips feature and a new Player for longer cuts of audio.
These tools give podcasters and broadcasters the functionality of a professional radio studio, straight out of a laptop.
Features now give users the opportunity to give their listeners and guests a finished production experience, including the ability to play intro and background music, host a panel show or quiz with sound effects, review music, have guests comment on interviews or even play voxes from the public.
'As business owners we are continually striving to take feedback directly from our users, as well as industry professionals, to ensure we are servicing our community with the best user experience possible,' says Marc Bakos, co-founder of Cleanfeed. 'The new enhanced tools really reinforce that creativity is only ever limited by our imagination and we are excited about the possibilities that these features open for everyone who uses them.'
More: https://cleanfeed.net