A new feature designed specifically for the TV, film and broadcast industries, Aux Outputs is the latest addition to the Cleanfeed collaboration tool for live high-definition audio and recording using a browser.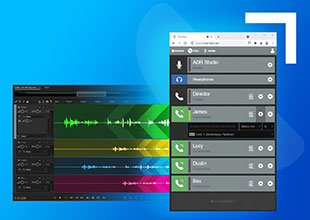 'Whether it is a single recording or a more granular multitrack recording, the Cleanfeed community has enjoyed recording millions of hours of high-quality content with their remote guests,' the company states. 'Linear recording, recording continuously without pausing, is great for the majority of people who edit their audio after the recording process is complete. However, what happens when you want to break the trend and record multiple takes or do overdubs? Perhaps you want to mix your audio live in a separate environment? That brings you into a nonlinear workflow, and that is where Aux Outputs will help.'
Aux Outputs brings new nonlinear workflow possibilities for recording and live performances to Cleanfeed, allowing a unique audio output device to be assigned to each remote guest connected to a studio.
'We're excited about the new possibilities Aux Outputs opens up to creatives working with remote audio, especially broadcast producers,' says Cleanfeed founding Partner, Marc Bakos. 'We have already seen production houses taking advantage of this new tooling, and the results have completely blown us away.'
More: https://cleanfeed.net