Amadeus has released a major software update for the Holophonix spatial sound processor. Version 1.7 brings a new web-remote user interface for better performance and a faster workflow, and includes a host of new features for immersive projects.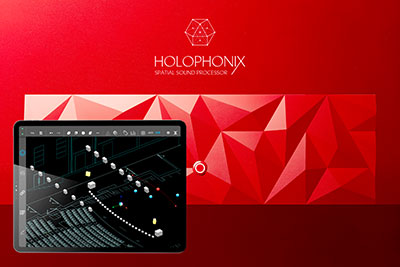 Developed in conjunction with several musical, theatrical and scientific institutions, the Holophonix processor was designed by Amadeus in a collaboration with the STMS (Sciences et Technologies de la Musique et du Son), a laboratory founded in 1995 and hosted by the Institut de Recherche et Coordination Acoustique/Musique and affiliating the CNRS, Sorbonne Université, the Ministère de la Culture, and Ircam around an interdisciplinary research theme dealing with music and sound sciences, and technologies.
'Previously, the Wave Field Synthesis algorithm was restricted to linear speaker arrays with regular spacing between the transducers. With Holophonix 1.7, Wave Field Synthesis now also supports non-linear speaker arrays, including 2D surround setups. The algorithm can now control circular, rectangular, or curved-shaped loudspeaker layouts with non-uniform spacing,' says Thibaut Carpentier, Researcher at Ircam, Lead Developer, and Head of the SPAT project.
Holophonix's built-in reverberation engine also offers new features, such as a Room Size parameter that allows you finer adjustment of the reverb effect. The Equalizer now offers seven PEQ, plus high- and low-pass filters; similar EQ is also available on the reverberation buses.
Key features:
Redesigned web-remote user interface.
Graphic performance up to 8x faster.
Loads large presets up to 8x faster.
New Options Bar displays functions by selected view.
New Visibility Layers to manage displayed elements
New Higher Order Ambisonics and Stream Sources.
New WFS Algorithm compatible with 2D immersive surround.
New Transformation Tool for positioning control of objects in 2D/3D.
New Transaural Algorithm for monitoring stereo loudspeakers.
New 3D Venue menu options.
Multiple OSC outputs.
New Undo/Redo functions.
New Solo Clear button for the Mixer.
New Parametric EQ.
New online User Manual.
The v1.7 update is free to all current Holophonix users, and is included with all new hardware systems.