Waves Audio has announced updates for all Waves SoundGrid applications – the eMotion LV1 live mixer and SuperRack plug-in chainer for live sound processing, and SoundGrid Studio and StudioRack applications for recording and mixing in the studio.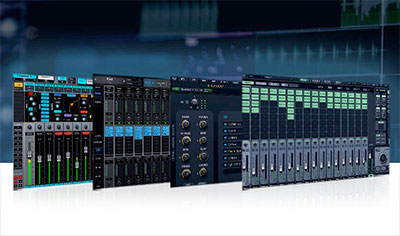 The updates bring integrated monitoring sync between SoundGrid Studio and Reaper and Bitwig Studio DAWs; support for the Waves MyMon personal monitor mixing app in SoundGrid Studio; graphic interface resizing options for all apps, including eMotion LV1 and SuperRack; as well as new features and improvements.
SoundGrid Studio's new automatic monitoring sync streamlines the workflow of Reaper and Bitwig Studio users when recording and monitoring in low latency through SoundGrid Studio. As a result of this new integration, Reaper and Bitwig Studio users can now automatically switch SoundGrid Studio's I/O routing and toggle StudioRack's Input/Playback modes directly from the DAW. This new synergy streamlines Reaper and Bitwig Studio's workflows for channel routing and auto-configurations throughout the recording process. The automated DAW sync streamlines channel routing and switching, which previously had to be done manually.
Also new in Waves SoundGrid Studio is support for the Waves MyMon personal monitor mixing app, which gives musicians direct control of monitor mixes during recording, via any mobile device.
New resizing/rescaling options added to the eMotion LV1 live mixer and SuperRack live plug-in rack allow users to customise the interfaces for specific monitor set-up. SuperRack's user interface can now be automatically resized, and a new Display Auto-Scaling mode has been added to eMotion LV1 for better support of high-res screens.
In addition, the update includes further new features and performance improvements for all four apps.
More: www.waves.com