Following the recently launch of its UF8 advanced DAW controller, Solid State Logic has announced the UC1 hardware controller.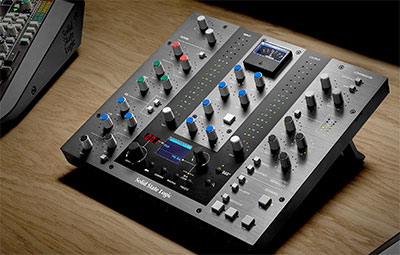 The UC1 provides simultaneous multi-function control of the included SSL Native Channel Strip 2 and Bus Compressor 2 plug-ins within a DAW session. At the heart of the UC1 is the SSL 360° Plug-in Mixer, allowing users to access and control all of their Channel Strips and Bus Compressors in one virtual console overview, offering a console-like approach to mixing-in-the-box.
The UC1 combines studio-quality encoders, switches and feedback LEDS, with an moving-coil Bus Compressor gain reduction meter for a console 'centre section' experience. With knob per-function control of the Native Channel Strip 2 and Bus Compressor 2 plug-ins, the UC1 provides a continual onboard display of the plug-in currently in use, and a value readout of the control currently engaged.
The SSL 360° Plug-in Mixer application allows users to create a virtual SSL console to work with the UC1 hardware. Designed to provide instant access to current and future SSL designed Channel Strip and Bus Compressor plug-ins within a single window environment, mix sessions are managed with unparalleled efficiency.
'With the addition of UC1, we now provide a series of studio-quality, affordable production hardware controllers with our signature SSL design approach,' says SSL Managing Director, Nigel Beaumon. 'From music production recording and mixing, to exacting audio finessing for post-production, the UC1 adds a level of detailed control and response for classic SSL EQ's and compression, traditionally only found on a full-blown SSL console. With plans to expand our plug-in offerings in the future, we will bring more of our heritage and modern processing tools to these exciting products."
Full licences for SSL Native Channel Strip 2 and Bus Compressor 2 plug-ins are included with UC1. Channel Strip 2 is a fully featured Channel Strip, based on digital modelling of the EQ and Dynamics curves from the SSL XL 9000 K SuperAnalogue console. V2 adds proprietary anti-cramping algorithms and the ability to trigger the dynamics sidechain externally. Bus Compressor 2 expands its feature set with additional Ratio, Attack and Release options, the ability to trigger the sidechain externally, as well as x2 and x4 oversampling.