Immersive technologies company Flux:: Immersive has announced Spat Revolution Essential, proclaiming, 'the power of Spat Revolution for everyone'.
With immersive audio enjoying a growing uptake, Spat Revolution offers an accessible creation tool for artists, creators, sound-designers and sound-engineers – as well as in and the world of education – to design, create, and deliver a real-time immersive experience.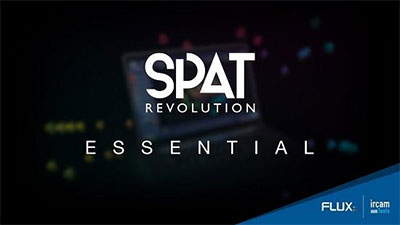 Spat Revolution is a real-time immersive audio mix engine employing object-based and perceptual approaches to allow audio sources to be positioned in spaces (real or virtual) with full automation of the spatialisation parameters independently from the output format.
Spat Revolution Essential is stand-alone software designed for real-time processing supporting standard ASIO and Core Audio audio interfaces, with low-latency options, as well as networked audio, and includes standard audio plug-ins for communication with all major DAWs supporting AAX, AU and VST. Offering easy integration and up to 96kHz resolution, Spat Revolution Essential includes integration templates for a wide range of third-party tools and workstations, and supports OSC integration for external controllers.
Spat Revolution Essential is available now, for perpetual and subscription licensing starting at US$199. Educational licensing offers available with eligibility requirements, and a new licence programme containing license bundles specifically designed for educational institutions and class labs will also be made available.
More:www.flux.audio