Following the announcement of the withdrawal of its free Create plan, Audio Design Desk has announced of v1.6 release of its 'entirely new breed of Digital Audio Workstation'. The release includes DAWSync, LoopDNA and audio recording features.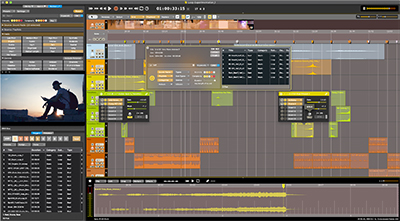 The latest software adds 10,000 sounds and music cues, along with DAWSync and audio recording for musicians and podcasters to produce and deliver content without leaving the application. An official public Slack workspace allows users to share work, exchange sounds, collaborate with one another, meet other artists, and directly communicate with the Audio Design Desk team.
New features include sync with any DAW including Pro Tools, Nuendo, Studio One, and Logic; LoopDNA users a real-time creative experience that keeps them in their flow; and new audio recording and editing tools.
Musicians and podcasters can record directly into Audio Design Desk without the need for an additional DAW, with advanced snap settings to duplicate, trim and place music to the beat, the ability to automatically quantise sounds as they are placed, and a metronome 'you will actually like'.
Audio Design Desk pricing starts at US$15 per month for the Produce package. A professional version is US$30 per month or US$399 for a perpetual licence.
More: https://add.app