Flux::Immersive has announced ReaVolution, a complete immersive audio creation and production package for the setup and integration of Spat Revolution Immersive software and Reaper DAW software.
With its high track and channel count, and support for a wide range of loudspeaker configurations, Reaper is well suited to immersive audio creation. The default configuration of Reaper is a 'blank slate' for Immersive sound workflows, with ReaVolution providing a starting point for customisation of integration.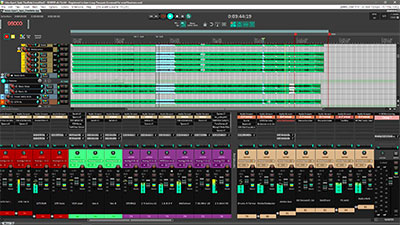 The ReaVolution package includes macros (scripts), custom toolbars, and system behaviour preference enhancements. According to the developer, 'the goal of ReaVolution is to address some of the most common issues by offering a new set of functions dedicated to Immersive audio production, and to provide a more cohesive starting point for users coming from other DAWs'.
ReaVolution provides actions that automate requirements for sending audio from Reaper to Spat Revolution, and works in pairs with the Audio Stream library to support any channel configuration. It uses the Audio Stream library to support any kind of channel arrangement and provide full compatibility with an Immersive sound workflow.
The Audio Stream Library is the core of ReaVolution, designed to overcome Reaper's limitations on track formats – by default, Reaper limits track channels to even numbers. The library combines a JSFX called Audio Stream along with other scripts. This JSFX is present on every track, and is used to store and display the stream type to the user. It supports the same stream formats as Spat Revolution: Channel-based, HOA, Ambisonics, Binaural and Transaural.
Key features:
Improved workflow for Immersive sound production.
Quick creation of source-objects and return routes to/from Spat Rendering
Powerful routing and busing capabilities
Solutions to default configuration problems.
Simplified audio and Midi editing workflow.
Added source-destination features.
Identification of track format as an Immersive audio object type.
Support for the same stream formats as Spat Revolution.
Macros to manage sending tracks, creating buses, folders etc.
More: www.fluximmersive.com