The latest update to Yamaha's Rivage PM digital mixing systems is the premium Y7 reverb, developed in close collaboration with Bricasti Design, to be released with Firmware v4.7 in mid-December.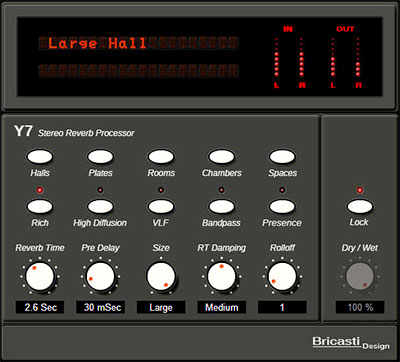 Bricasti Design is known for its hand-crafted, hardware digital reverbs, characterised by the rackmount M7 – considered to be the company's masterpiece reverb and widely used by professional studios and live sound engineers.
Yamaha and Bricasti have now collaborated to design a new reverb for Rivage PM digital mixing systems. The Y7 will be available at no cost as part of the Firmware V4.7 update, promising the 'highest level of expressiveness, sound quality and operability' to live sound engineers, and further expanding the options available to Rivage PM users.
'Together with Yamaha we are pleased to announce the release of the Y7 reverb. By working closely with the Yamaha development team, the Y7 was specifically designed for use in Yamaha Rivage PM digital mixing systems,' says Bricasti Design CEO, Brian Zolner. 'It brings to the live market a Bricasti reverb that is integrated in the console for simple, fast and familiar operation, as well as bringing the renowned Bricasti sound to users of Yamaha products. We feel the Y7 will offer new art to the sound engineers and fulfil their requests for a premium reverb product from us for their consoles.'
'We are very pleased to announce the release of the Y7, which we have co-developed with Bricasti Design,' Motome Tanaka, Yamaha Group Manager, PA Marketing & Sales Group, adds. 'All Yamaha mixers are built on the philosophy of allowing engineers to capture the on-stage sound accurately, without colouration. Plug-ins play a vital role in allowing engineers to take this transparent sound and apply their artistry to the mix. High-quality reverb is one of the most important tools to achieve this and we are confident that the Y7 will become a key part of the creative expression for many sound engineers.
'We at Yamaha will continue to listen to the opinions of our customers and work hard to provide the most flexible systems and comfortable mixing environments.'
More: www.yamaha.com