Merging Technologies' Pyramix now includes Dolby Atmos in its workflow, allowing users to create natively in Dolby Atmos without the need to move to an alternative platform.
Merging Technologies has worked closely with Dolby to achieve full communication between Pyramix and the Dolby Atmos Renderer, and also to bridge the gap between the Dolby Atmos 7.1.2 maximum bed size and the traditionally larger bus sizes used by some Pyramix users. By detecting when a user is mapping the bus-based channel to an object, Pyramix sends the correct metadata to the Dolby Atmos Renderer, to emulate a speaker. This is particularly relevant for users wanting to translate native mixes using more than two height channels (5.1.4, 7.1.4) and/or using wide speakers (9.1.4, 9.1.6).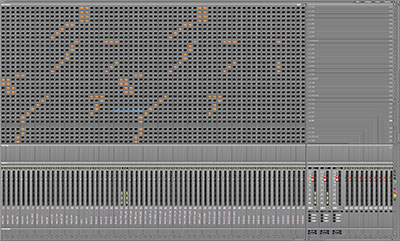 The update includes direct connection with a Dolby Atmos Mastering Suite workstation allowing transfer of audio and metadata, full compatibility with the Dolby Atmos Production Suite renderer, and extremely flexible mixing options. Bed and Objects can be optimised within Pyramix to manage different speaker set configurations.
In a move to make the software packs simpler to understand and more cost effective, Pyramix software now comes in only three versions – with reduced prices. Elements is the cheapest version allowing creators to experience DSD/DXD format. Pro is for those who rely on Pyramix for editing and require more channels of DSD/DXD. Premium contains all features, allowing 24 channels of DSD/DXD and all mastering options that including Dolby Atmos compatibility.
Something that affects all releases is a new security system. With laptops being stripped of USB ports and software deployment requiring lightning speed, Merging has implemented a new security system allowing customers to authorise software without any hardware dongle. Use of hardware dongles remains an option.
A further major improvement addresses native users – Pyramix is now based on a multi-threading architecture which brings a significant performance improvement. The audio engine analyses the session in real time and calculates the optimal number of threads to be used. For the power user, MassCore remains the reccommended option for maximum I/O, lowest latencies and power for VS3 processing.
Improvements have also been made to VST/VS3 plug-ins' distribution, video playback and SRC performance, along with some mixer enhancements.
'When we launched Pyramix all those years ago, only in my wildest dreams would we be still doing such amazing productions with Pyramix,' says Merging Technologies President, Claude Cellier. 'Only in my wildest nightmares would we be introducing such a major release in the middle of a global pandemic. The fact that most of the engineering team continue to work from home is a testament to their extraordinary commitment in such difficult circumstances. Our relationship with Dolby in enhancing our immersive offering has also been cemented remotely, since there have been no trade shows to meet face-to-face. It looks like that will not be changing anytime soon."
More: www.merging.com