The new WSG-HY128 card for Yamaha's Rivage PM series consoles allows Waves plug-ins to be run at ultra-low latency, using Waves SoundGrid technology.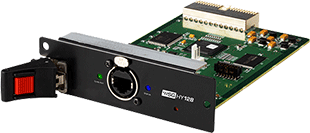 Using the console's HY slots, the WSG-HY128 card uses the Waves SoundGrid protocol to connect all I/O devices with the DSP server and the host computer. Multiple console synchronisation and digital splits are supported using clock Sync over Ethernet (SoE).
Together with a SoundGrid DSP server, a Mac or PC and Waves plug-ins, the WSG-HY128 allows up to 128 channels of audio to be processed using Waves reverbs, equalisers, compressors, limiters and delays, with nearly no latency. Additional SoundGrid I/O devices can also be assigned to a network.
Key features:
Run Waves plug-ins in real time on Yamaha Rivage PM series consoles.
Supported sample rates: 44.1kHz, 48kHz, 88.2kHz and 96kHz.
24-bit sample resolution.
128 channels of audio at 44.1/48/88.2/96kHz.
Clock Sync-over-Ethernet (SoE) for digital splits and audio networking.
The card can accept firmware changes/upgrades.
More: www.waves.com