The RCF F 24XR analogue mixing desk features 18 mic preamp inputs with phantom power, 16 mono line inputs, four stereo line inputs, multi-FX, six single-control compressors, stereo recording and playback via USB, balanced main output (stereo XLR/TRS). The mono channels are provided with three-band EQ, with selectable mid frequency, and three-band for stereo channels. The mixer features 16 Pro DSP internal presets, two stereo output busses and four aux sends (two pre/one pre/post/one post). It also features 60mm faders.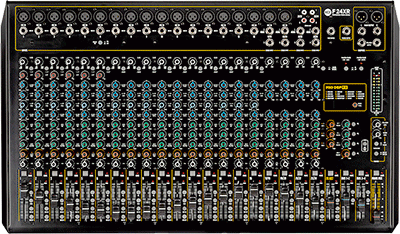 Housed in a metal chassis, the mixer has a fully balanced, low-noise audio path from input to output, with single-control compressors to limit signal peaks and a modern-sounding EQ. Three band EQ is available on mono channels with semi parametric mid-band EQ, two bands EQ on stereo channels provide precise sound shaping.
Key features:
Onboard DSP FX with presets.
60mm faders.
Stereo Recording/playback via USB ports.
Balanced main output audio path from input to output.
Six single-control compressors.
Mono channels have 3-band EQ, with selectable mid.
Internal universal PSU.
Metal chassis.
More: www.rcf.it